Trusted Shops Certified
Our webshop carries the Trusted Shops Quality Label. The Trusted Shops specialists have subjected anteros.shop to a thorough audit, after which they have given their approval to display their Quality Label. Below you can read what this means for you as a customer.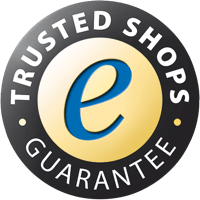 Trust, security, safety
In order to obtain the Trusted Shops Quality Label we had to meet a whole series of requirements. Thanks to the Trusted Shops audit, nothing on our website is left to chance. All information is communicated unambiguously, no legal obligation is overlooked. This is necessary to provide you, the consumer, with all the necessary security. You don't know us yet because we have only just opened. Thanks to the Trusted Shops quality label, you can still order from us with confidence.
Guarantee
When you order something from us, you can opt for the free Trusted Shops Guarantee. Think of it as a free insurance policy in the event something would go wrong. Here you can read everything about the Free Trusted Shops Guarantee.
Verified Authentic Reviews
The reviews you see on our webshop are managed by Trusted Shops. They are automatically verified by Trusted Shops and displayed on our webshop without our intervention. We cannot post or influence reviews ourselves. One more reason to order from us in all confidence.